NDF's Partnership On Upcoming GNEM Event Makes The News In Turkey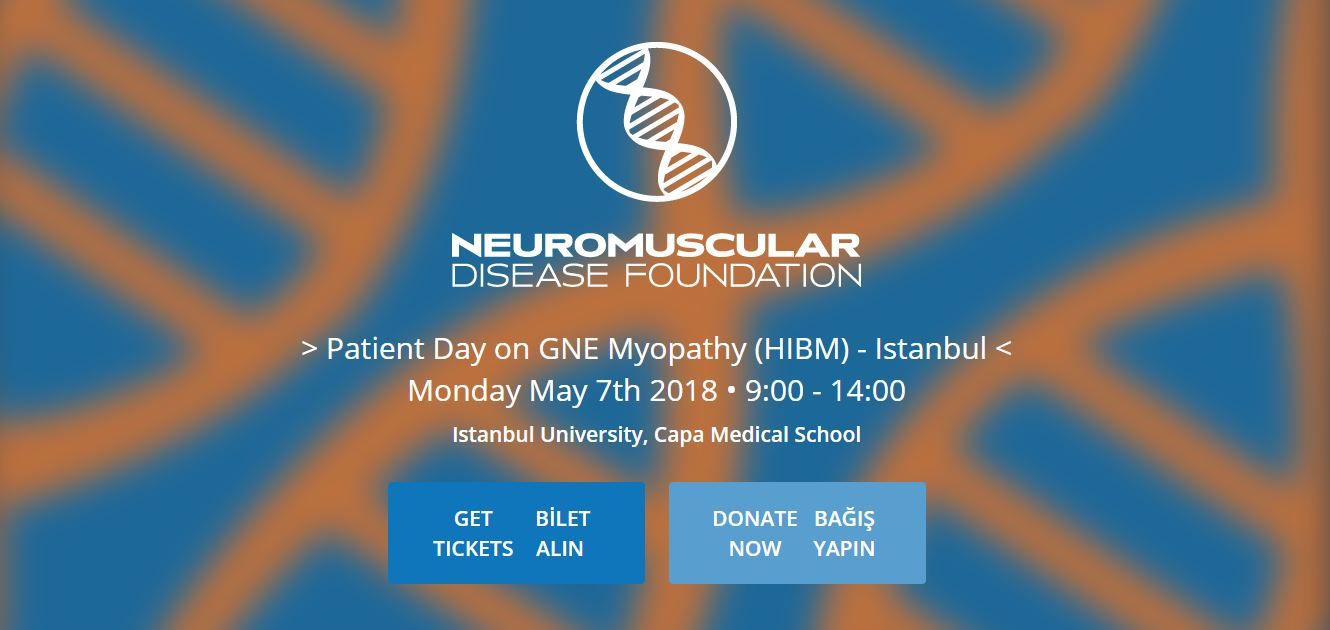 Hello Readers,
HIBM/GNE Myopathy is one of the muscular diseases that there are approximately 200 varieties of, which leads to serious muscle loss in 20 years- especially in legs and arm muscles. It is a genetic disease and is located in the 9th chromosome of the GNE gene.  These mutations of the 9th chromosome cause reductions in the activity of the protein that is coded by this gene.
The GNE protein produces sialic acid which is a small sugar in the cells and tissues of our whole body. The mutations of this gene, causes lack of sialic acid and affects the muscle cells. By the time the muscle cells gets weaker; early symptoms start to be seen like foot drops, falling down due to foot drops, difficulty in walking and running, loss of balance, and difficulty in climbing stairs. Weakness in hands, fingers, shoulder, and neck muscles can occur in the further years. There is no certain treatment for GNE Myopathy; there are some experimental drug studies going on.
This week, the first meeting about HIBM/GNE MYOPATHY will take place in Istanbul, in cooperation with the Directorate of Istanbul University Disability Research and Implementation (ENUYGAR), Turkey Muscle Disease Foundation (KASDER), and the Neuromuscular Disease Foundation (NDF). Viewpoints of experts and patient will be shared  in this meeting. This will be the first meeting about GNE Myopathy held at Rectorate of Istanbul University Doctorate Room on May 7-8 2018. Patient representatives from abroad will be attending to the meeting.
Topics including: Clinical Discoveries and Review, Genetic Studies, Genetic Studies in Turkey, Physiotherapy, Enigmas and Unmet Needs, New Developments, Diet and Weight Control in GNE Myopathy will be handled by national and foreign experts. A patient experience about stem cell therapy will be shared with the participation of a Physiotherapist and a Dietician.
This extensive meeting has been launched with the efforts of Süleyman Kuş who is a HIBM/GNE Myopathy patient and a family doctor. Mr. Kuş, first tried to reach the patients who are diagnosed with this disease by his own means. After that, he contacted the Neuromuscular Disease Foundation and attended their 4th Annual Symposium on GNE Myopathy in Los Angeles, CA, last August. He then got involved in the NDF's programs and became a Certified Patient Advocate. Once Mr. Kuş had NDF on board with his plans for a GNE Myopathy patient day, he got in touch with Turkey Muscle Disease Foundation (KASDER). Fatma Çoban, board member of KASDER, was deeply interested in this subject and forwarded the subject to Prof. Dr. Resa Aydın Director of Istanbul University Disability Research and Implementation. With the effort of these 3 special people, patients will have an opportunity to get information from experts.
Note: If you want to participate to the meeting, please send an email to info@kasder.org for registration.
This content has been translated from Turkish to English; read the original article in Turkish, here.